EAT Gallery Celebrates 10th Anniversary
By Katherine Cotterill
1 comment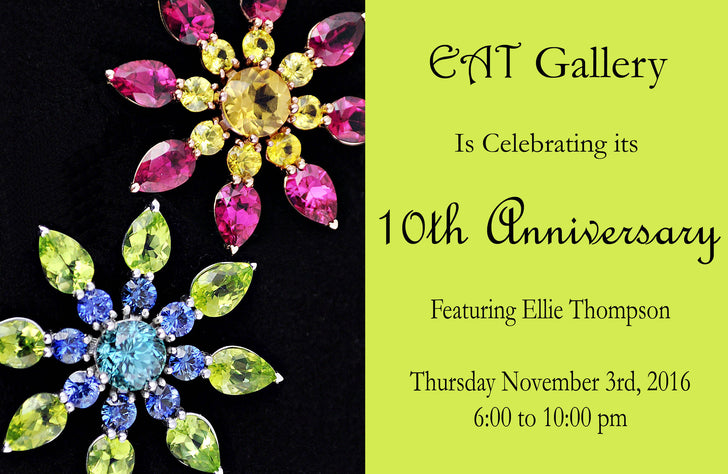 PRESS RELEASE
Maysville, KY 
October 15th 2016
EAT Gallery Celebrates 10 years in Downtown Maysville, KY
EAT Gallery is celebrating our 10th year in business and we are excited to announce a celebration on November 3rd, from 6-10pm to kick off a year of spectacular events and activities. Hors d'oeuvres and festive beverages will be served while you enjoy the new designs of award winning jewelry designer Ellie Thompson of Chicago, Illinois.  Ellie will be in the gallery with new designs and available to discuss custom work November 3rd, 4th and 5th. 
Owned by Laurie and Simon Watt, the EAT Gallery opened its doors during the 2006 Rosemary Clooney Festival and has become a destination store for Maysville residents and visitors alike.  The gallery showcases unique hand crafted jewelry by artisans from around the world displayed alongside mineral specimens, natural stone carvings, framed butterflies, local art and a host of other treasures that celebrate the wonders of nature and earth.    
Longtime Maysville residents know the building used to be the home of Morgan's diner.  When Simon first visited Maysville in 1991, the first place he was taken was Morgan's and the diner left an indelible impression. The iconic neon "EAT" sign on the front of the building was refurbished to help preserve the history of downtown and was the inspiration for the gallery's name Exquisite Art Treasures. 
EAT Gallery is located at 46 W Second St in downtown Maysville and is open Tuesday through Friday 11am-6pm and Saturday 11am-5pm. 
Please contact Simon or Laurie Watt for details at (606) 564 3400 or Katie Cotterill at (606)564 5578.
Share this